Unlock the power of VA home loan benefits for your military clients with our Part IV VA Home Loans Class for Real Estate Professionals. Many Veterans and Active-Duty Service Members are unaware of the potential for subsequent use of their VA home loan benefits. In this course, you'll learn how to educate and guide your military homebuyers in leveraging these benefits to build a wealth portfolio through real estate investments. Additionally, gain insights into helping your clients understand the hidden costs of delaying their home purchase. Equip yourself with the knowledge to empower military clients with smart real estate decisions and advance your career as a trusted agent.
Enroll in this course to master the following essential skills: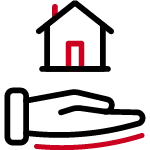 Subsequent Use of VA Home Loans
Gain a deep understanding of how Veterans and Active-Duty Service Members can utilize their VA home loan benefits more than once, enabling you to provide valuable insights to your military clients.
Wealth Portfolio Building
Learn strategies to assist military homebuyers in leveraging their VA benefits to create a real estate investment portfolio, helping them build long-term wealth and financial security.
The Cost of Waiting
Explore the true financial implications of delaying a home purchase, equipping you with the knowledge to guide clients toward timely decisions and secure their dream homes with confidence.
Join us for Part IV of our VA Home Loans series and become the go-to agent for military homebuyers looking to maximize their VA benefits and make informed real estate investments. Elevate your expertise and help your clients achieve their financial goals through homeownership.
Keller Home Loans will use the information you provide on this form to be in touch with you and to provide updates and marketing. We will not share or sell your personal information. You can unsubscribe anytime by clicking the unsubscribe link in the footer of our emails, or by replying to our emails and asking to be unsubscribed. For more information, please read our privacy policy.
At Keller Home Loans, we are dedicated to education.
At Keller Home Loans, education is the cornerstone of our philosophy because we understand that the world of mortgages is constantly evolving. We are committed to fostering an environment of continuous learning, enabling real estate agents to stay ahead in an ever-changing landscape.
Our educational initiatives cover a wide range of topics, from understanding different loan programs and mortgage rates to  navigating complex financial scenarios. We recognize that well-informed real estate agents are instrumental in helping individuals and families achieve their dreams of owning a home. Together, let us embark on a journey of knowledge and growth as we work hand in hand to shape a brighter future for the real estate industry.