Expand your real estate expertise and excel in serving military homebuyers with our Part II VA Home Loans Class for Real Estate Professionals. This advanced course equips agents with practical techniques, scripts, and in-depth knowledge to master lead generation, objection handling, and negotiation strategies within the local military homebuyer community.
Upon completing this course, participants will gain proficiency in: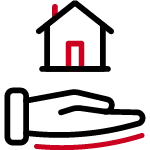 Lead Generation Mastery
Learn effective strategies and proven scripts to proactively attract and engage military homebuyers, building a strong network within the local military community.
Objection Handling Expertise
Develop the skills to confidently address objections related to VA home loans, ensuring a smooth and successful transaction process while building trust with clients.
Negotiation for Success
Understand the nuances of negotiating VA financing purchase offers, enabling you to secure the best outcomes for both your buyers and sellers, and foster positive relationships with fellow real estate professionals.
Join us in this specialized course and become the go-to real estate agent for military homebuyers, enhancing your career prospects and serving those who have served our nation.
Keller Home Loans will use the information you provide on this form to be in touch with you and to provide updates and marketing. We will not share or sell your personal information. You can unsubscribe anytime by clicking the unsubscribe link in the footer of our emails, or by replying to our emails and asking to be unsubscribed. For more information, please read our privacy policy.
At Keller Home Loans, we are dedicated to education.
At Keller Home Loans, education is the cornerstone of our philosophy because we understand that the world of mortgages is constantly evolving. We are committed to fostering an environment of continuous learning, enabling real estate agents to stay ahead in an ever-changing landscape.
Our educational initiatives cover a wide range of topics, from understanding different loan programs and mortgage rates to  navigating complex financial scenarios. We recognize that well-informed real estate agents are instrumental in helping individuals and families achieve their dreams of owning a home. Together, let us embark on a journey of knowledge and growth as we work hand in hand to shape a brighter future for the real estate industry.