Are you ready to take your real estate career to the next level? Join us for an exclusive seminar in partnership with Keller Home Loans and theVAloan.org, where you'll gain valuable insights into serving VA-eligible clients. This seminar is designed to empower you with the knowledge and tools needed to excel in the world of VA real estate transactions.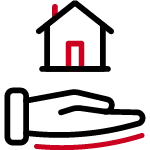 VA Realtor Certification
Upon completing this seminar, you will officially become a VA Certified Realtor, courtesy of theVALoan.org. Stand out from the crowd and demonstrate your commitment to assisting our nation's veterans.
Grow Your Business
Discover how branding yourself as a VA Certified Realtor can supercharge your business growth. By helping veteran borrowers and their families navigate the VA home loan process, you'll create lasting relationships and expand your client base.
Gain a Referral Lender
Keller Home Loans is not just any lender; they are deeply committed to serving veteran borrowers better than any lender in the United States. Learn how partnering with Keller Home Loans can provide you with a valuable referral source, giving you a competitive edge in the market.
Join us in this specialized course and become the go-to real estate agent for military homebuyers, enhancing your career prospects and serving those who have served our nation.
Keller Home Loans will use the information you provide on this form to be in touch with you and to provide updates and marketing. We will not share or sell your personal information. You can unsubscribe anytime by clicking the unsubscribe link in the footer of our emails, or by replying to our emails and asking to be unsubscribed. For more information, please read our privacy policy.
At Keller Home Loans, we are dedicated to education.
At Keller Home Loans, education is the cornerstone of our philosophy because we understand that the world of mortgages is constantly evolving. We are committed to fostering an environment of continuous learning, enabling real estate agents to stay ahead in an ever-changing landscape.
Our educational initiatives cover a wide range of topics, from understanding different loan programs and mortgage rates to  navigating complex financial scenarios. We recognize that well-informed real estate agents are instrumental in helping individuals and families achieve their dreams of owning a home. Together, let us embark on a journey of knowledge and growth as we work hand in hand to shape a brighter future for the real estate industry.